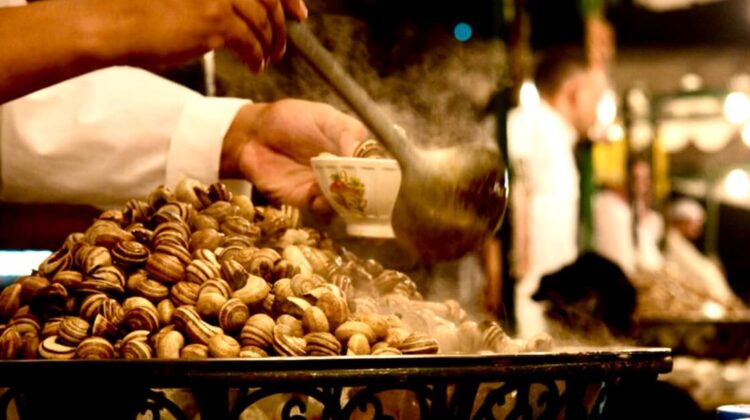 By its richness, flavor and diversity, Moroccan gastronomy is ranked among the best international cuisine.
But, Morocco is one of the best street food destinations in the world. So, If you are visiting , It is essential to taste the flavors of Moroccan street food.
Each region has its specialties, at every street corner you will surely find a delicacy that will make your mouth water and in addition available at any time of the day.
Harrira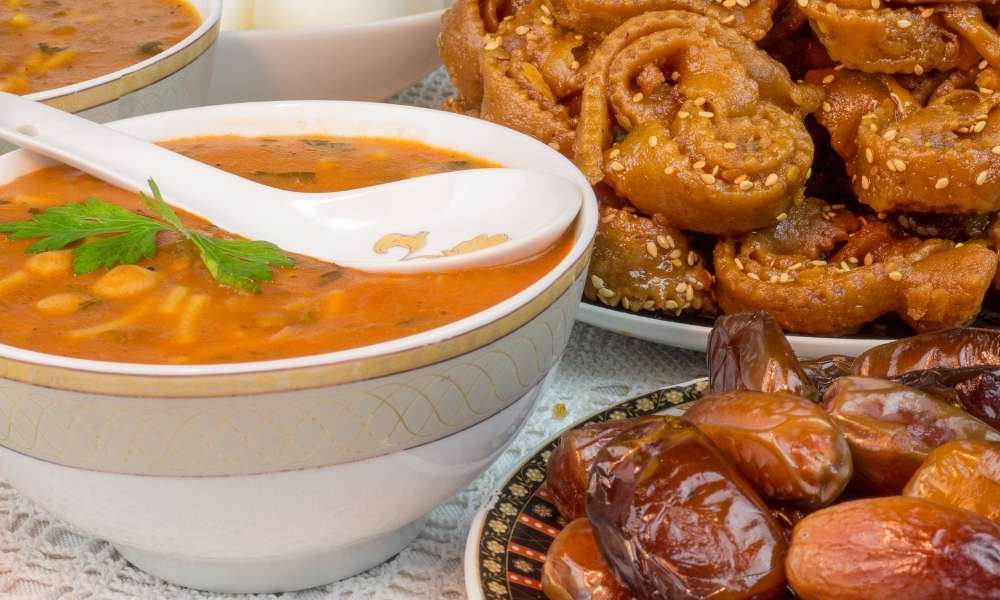 Harrira is a savory soup. It's the first meal to break the fast. In this soup we find the following ingredients: diced beef or mutton, tomatoes, chickpeas, lentils, onions, tomatoes, celery, rice or vermicelli, and for spices there is salt pepper, ginger, saffron, cilantro and fresh parsley and smen that give it a unique smell and flavor.
And of course the Harrira must be accompanied by dates er Chebakia.
Merguez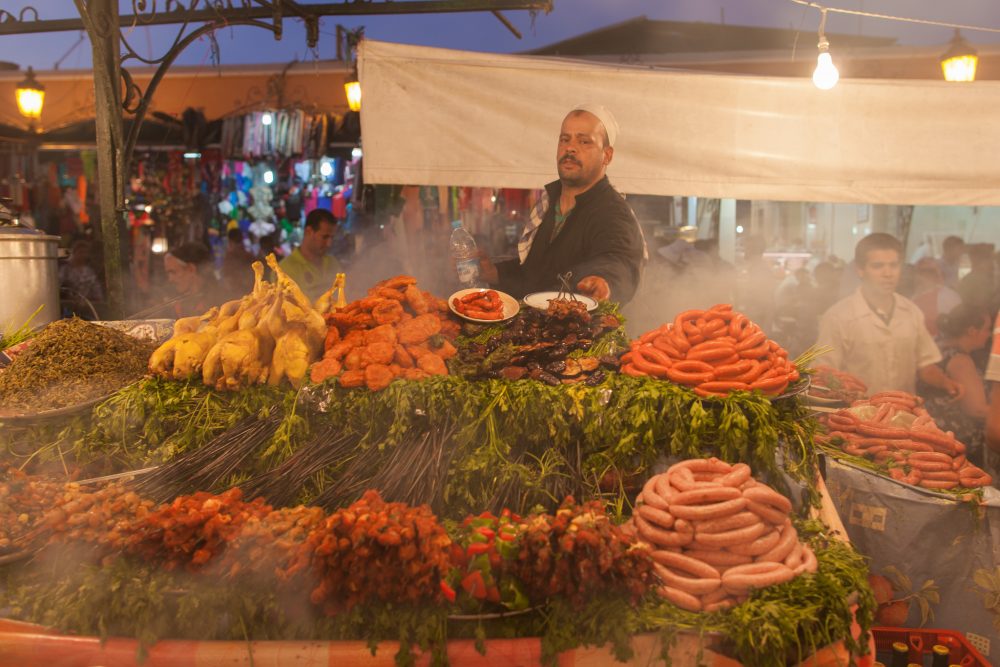 Merguez is a spicy red sausage made from minced beef or mutton. Served either grilled or fried in a sandwich with a raw Moroccan salad of tomatoes, onions, a bit of harissa and olives.
Maakouda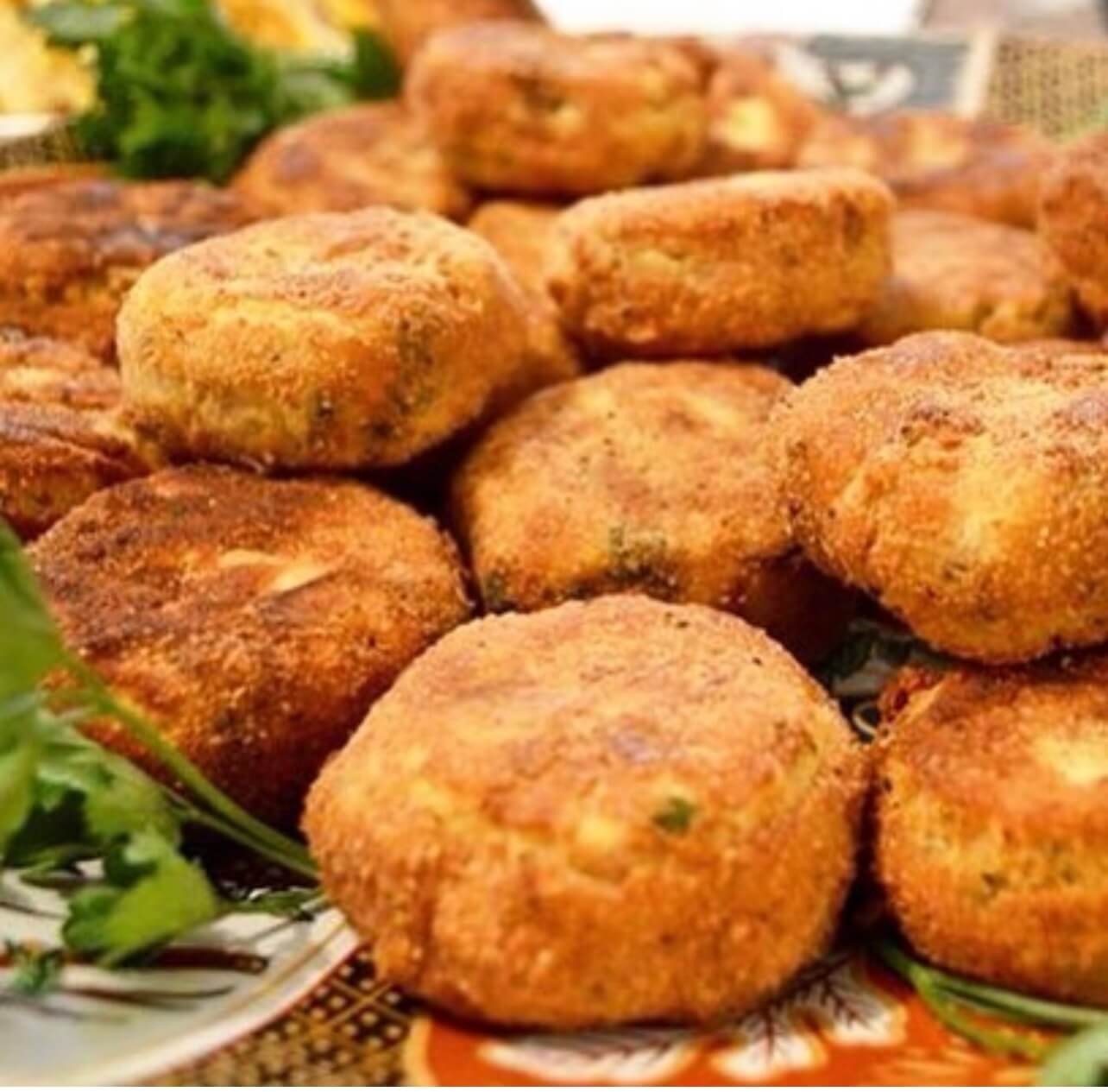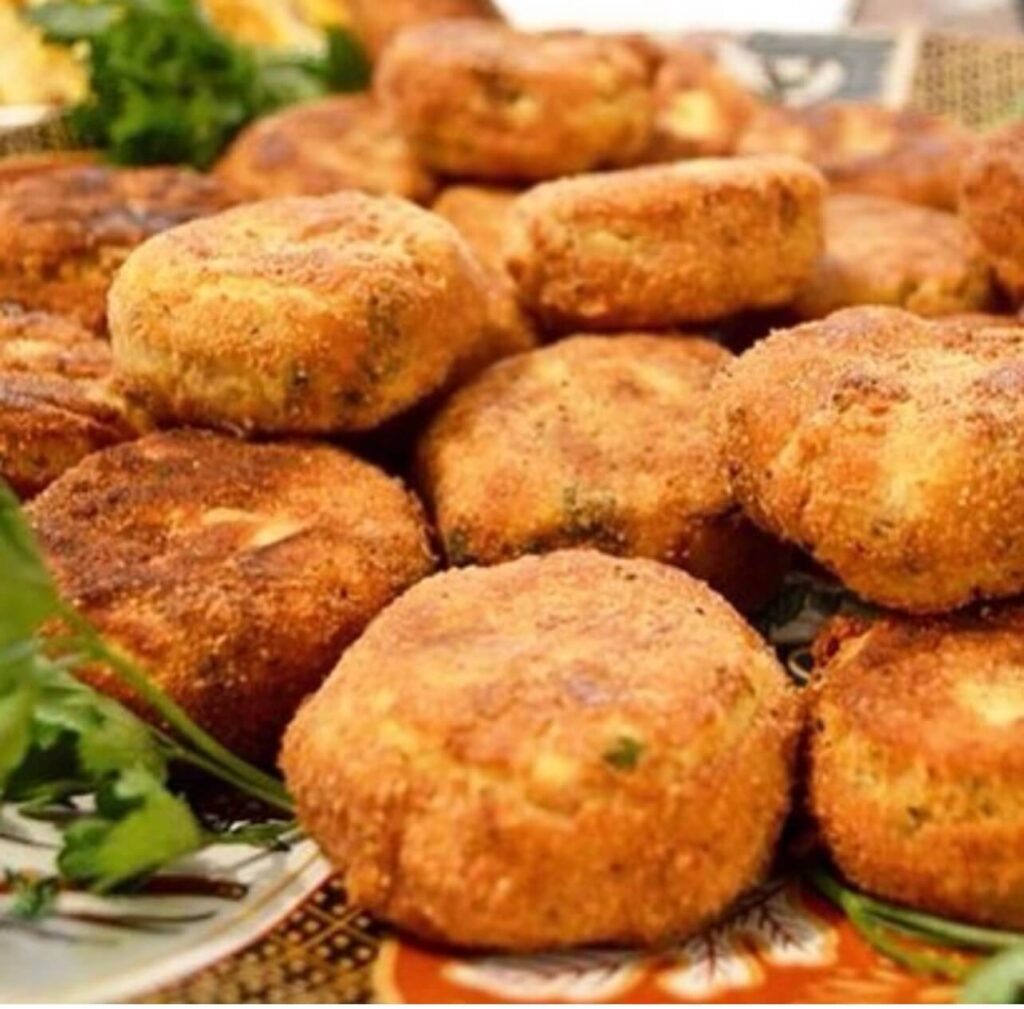 Maakouda or Moroccan potato pancake is a mashed potatoes, mixed with herbs and spices, rolled into a ball in flour and then fried.
These pancakes are served alone as a snack or as a sandwich with a salad. They also make an excellent side dish for a tajine or for a fried sea dish.
Sardines
Sardine stuffed with charmoula is a pure delight, it is a very well known traditional Moroccan dish. Well-cleaned sardine fillets mix with paprika, cumin, garlic, chopped cilantro, salt and pepper. Pass them in flour before frying. Serve hot as a dish with a salad or as a sandwich with tomatoes
Bocadillos
Bocadillos, not Spanish, is also part of Moroccan cuisine. This sandwich has a low price, is very popular too. It is very much consumed by tourists and locals. Each city in Morocco adds its own touch to it.
Depending on the seller, a Moroccan Bocadillos can be made using half of a long French baguette, or with half of a Moroccan khobz bread.
At home, any bread or crusty bun will do. It consists of canned tuna, carrots, tomatoes, eggs, green olives, lettuce, raw onion, for the sauce we put either mayonnaise or vinaigrette and harissa.
Babouch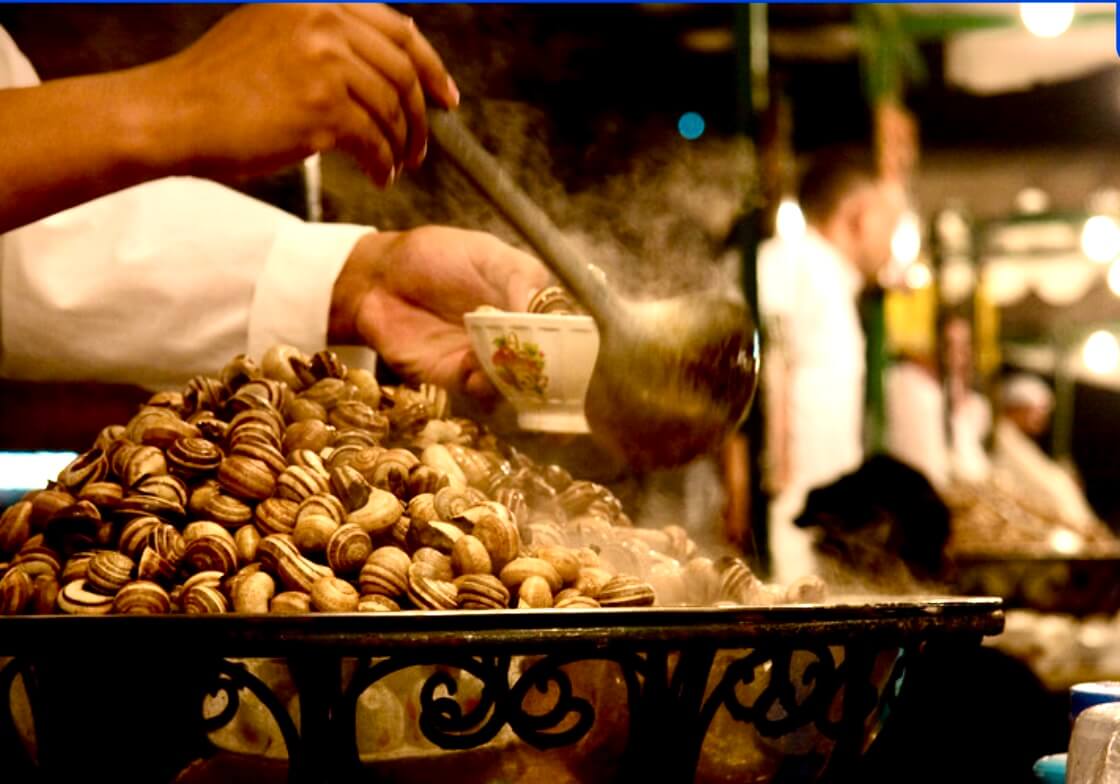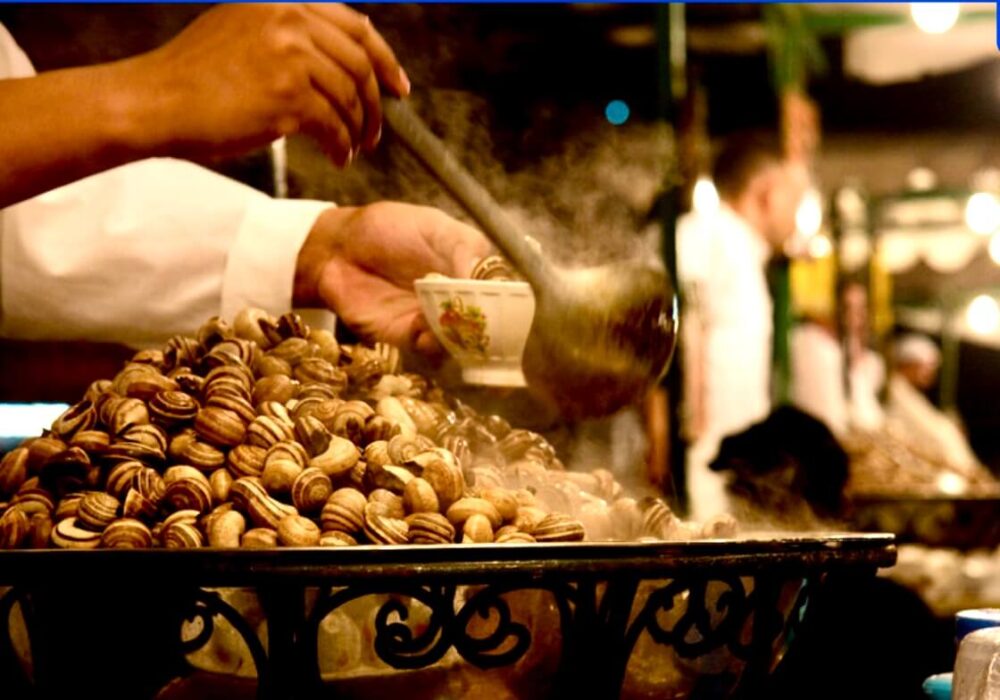 Babouch or Moroccan snails is a nice delicacy. The sellers of stationary or mobile snails have a hand cart, which looks like a table on wheels.
Snails are cooked in boiling water with the following spices: salt, cumin, whole ginger, whole anise seeds, licorice root, mint, thyme, tarragon oregano, peppers crushed to taste, fennel seeds.
The whole thing is put in a large pot. And it is served in small bowls, some people prefer to drink than broth. They say that this traditional dish aids digestion and soothes cold symptoms.
Sfeng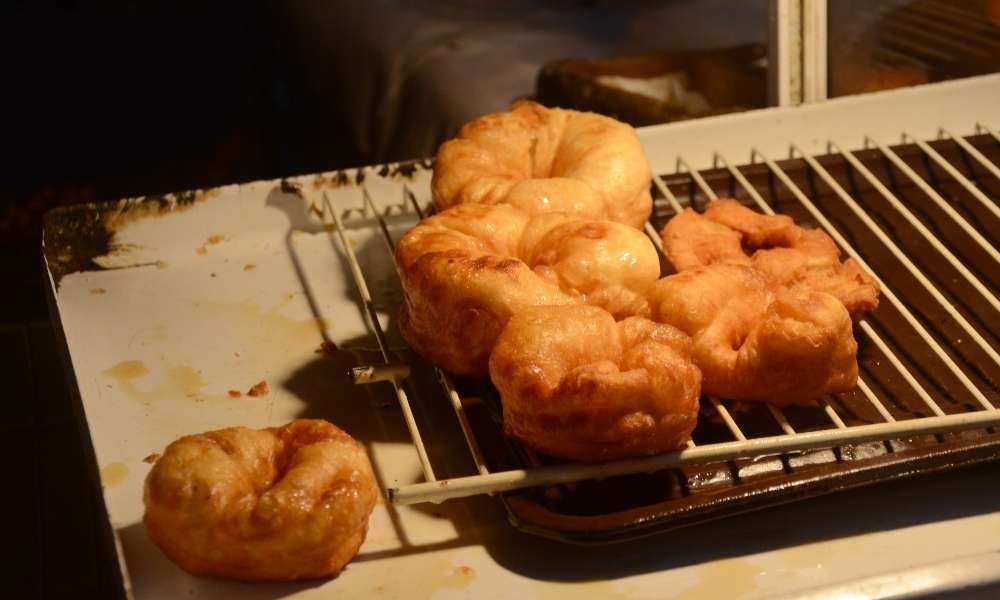 Sfenj is a very popular specialty very delicious dessert that can be enjoyed hot.
They are spongy doughnuts like made from flour that has been kneaded for a long time and fried in oil. It is like a soft sponge inside and tight on the outside
Mssaman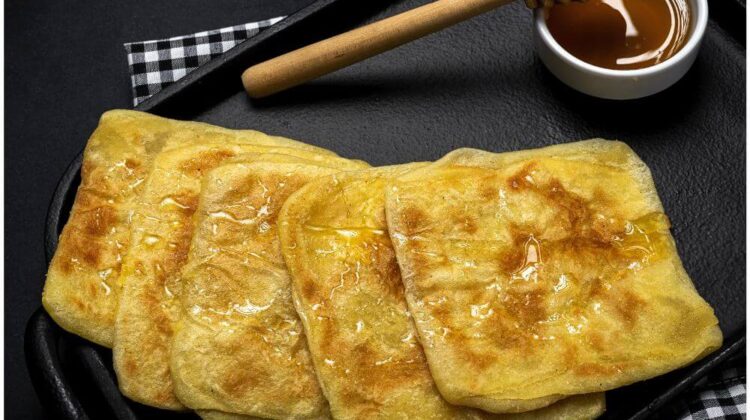 Mssaman or rghaif they are square puff pancakes. Based on flour or semolina or both served with honey for breakfast and afternoon tea accompanied by a good Moroccan tea
Mint Tea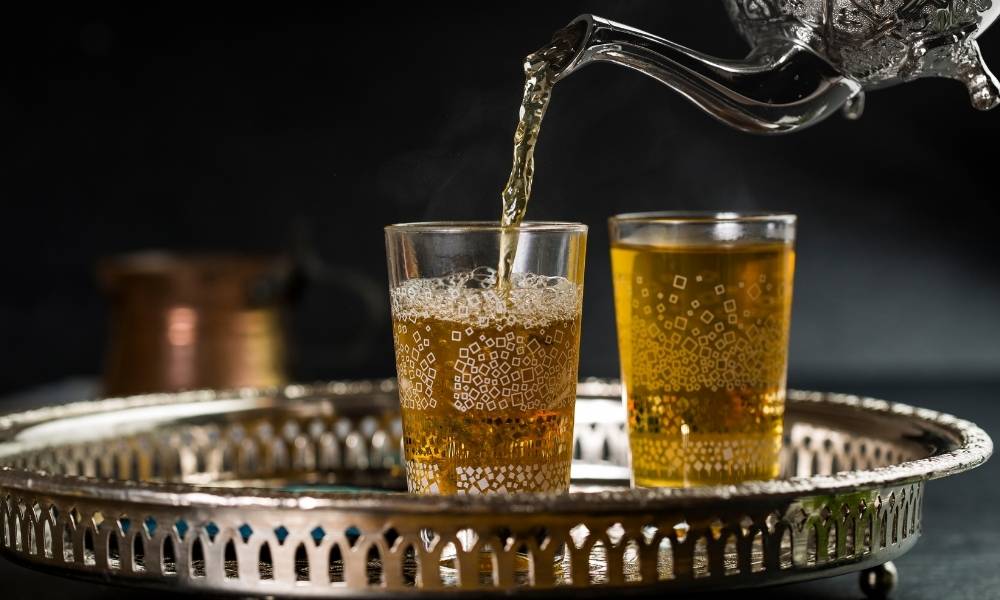 Mint tea is consumed throughout the day. It is also the symbol drink of hospitality that is offered to its guests or to people passing through.
The preparation and serving of Moroccan tea has its own ritual, which differs from one region to another, but the basic products remain the same.
Moroccan mint tea is made with fresh mint, green tea, sugar and boiling water.
On the terrace, at merchants, with the family, at parties and ceremonies, this drink is unmissable and represents the art of welcome.