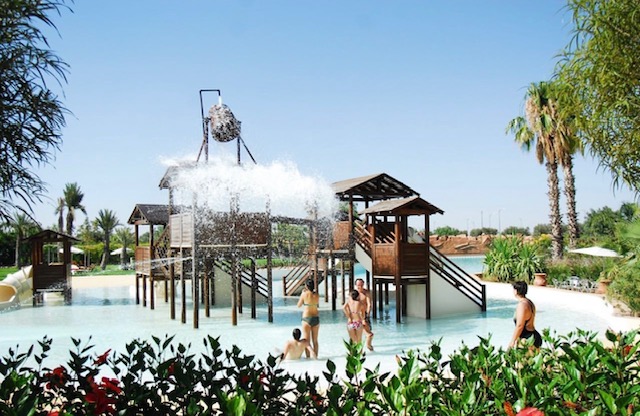 The Atlantic and Mediterranean coasts of Morocco, as well as its impressive mountainous regions, its vast forests, and its sparkling Sahara, make it attractive to tourists; despite this, there are a number of places where anyone can relax and have fun.
Aside from the beach, there are multiple water parks you can visit with your kids, family, friends or significant other to cool off and have fun during summers.
The parks are well equipped and sophisticated and can be found in several cities throughout Morocco.
Atlantica Parc Agadir :
The Atlantica Parc can be found 27 km from Agadir. It offers a variety of exciting activities for children and adults alike, whether they are visiting with family or friends.
This adventure is most enjoyable when you try to slide down the fast slide and feel the magic, or simply relax on the deckchair and enjoy the sun and the exceptional climate of the area.
Children can play safely in a separate paddling pool without being at risk of injury.
Tamaris Casablanca :
Among the country's most famous water parks, Tamaris Aquaparc is found in the economic capital of Morocco, which makes for a great day out for both children and adults.
Get your adrenaline pumping by sliding on long slides that will make you shake, relax in the slow, beautiful river, or swim in the wave pool.
There are several schools that use Tamaris Aquaparc for educational outings on sunny days as a special place for the little ones to splash around while they learn and play.
Oasiria Marrakech :
In addition to serving as the first water park in Morocco, Oasiria offers 20 attractions for children and adults alike, eight clean pools, five restaurants, all serving delectable meals, as well as a fitness room for staying in shape throughout the summer.
You can start your day with a rush of adrenaline and end it by relaxing in the pool after experiencing a thrill of a lifetime.
You will not be able to leave the restaurant at dusk due to the lively evenings and prestigious events that take place there..
Aqualand Meknes :
An average of 800 visitors visit Aqualand every day, which provides long slides, various attractions, and various activities for children. It is attractively located just off the highway at the western entrance to the imperial city of Meknes.
If you are in the mood for a good time in the evening, make your way to the Aqualounge until 1 a.m. Nobody will be disappointed with the park's exceptional attractions, whether you live here or are visiting.
Mnar Park, Tangier :
Among the many attractions, you'll find at the Mnar Park complex is a water park with slides in different colours, a karting circuit that'll increase your adrenaline and an area for your children to play.
You will be able to enjoy breathtaking moments of relaxation and release in group or solo and make memories that will last a lifetime.
A trip to the restaurant is an opportunity for you to experience delicious Mediterranean and Moroccan cuisine, as well as to learn how Moroccan gastronomy is ranked second on the world's top ten lists. During your stay, you can enjoy fun, refreshment, and relaxation in this summer paradise.
Aquaparc of the Residence Hotel Rim Aquatique :
A relaxing getaway at the Residence Hotelière Rim Aquatique is ideal if you put relaxation above all else. The aquapark includes a children's area, a go-kart track, a wave pool, a children's basin, a Jacuzzi, and a children's entertainment area.
Rokya Aquaparc :
With multiple activities to keep your family entertained as well as an area where hundreds of families from Rabat-Salé gather, Rokya Aquaparc offers a variety of fun activities for the entire family, such as watching animated and controlled swimming pools, playing water games, enjoying tasty meals and many more.
You should not hesitate to visit this place in the summer to refresh yourself since Meknes does not have a beach; therefore, Rokya Aquaparc is the perfect place to cool off during the summer months.
Alpamare Saidia :
It is perfect for spending a day sliding down water slides at Alpamare Saidia, which is known as the best water park in Saidia. This water Park features an outstanding mix of entertainment, ensuring both young and old have fun, relaxation, and excitement on its 7 hectares of land representing different African regions.
The younger generation will be able to encounter privateers and unique sea creatures through no less than ten top-notch attractions.
Smir AquaPark :
There is a large water park in Fnideq called the Smir AquaPark, which is one of Morocco's largest. The park includes a large water pool, a trampoline, slides, and a giant fun wheel, as well as several games for children and adults.
In addition to finding delicious local food, you can also find ice creams and snacks at various kiosks and restaurants in the park.
Dream Village :
It occupies an area of more than 20 hectares in the village of Douar Sidi Moussa Bel Majdoub, near Mohammedia. This recreational park (Dream Village) is popular with families, youths, and schools interested in spending time in a peaceful, natural environment. Zoos, birds, reptiles, and stables for horses are included in the park, as well as animals from different countries of the world.
Several swimming pools are available to children as well as adults. A locker room is available for changing clothes, and lifeguards are on duty to ensure your safety while swimming.
You can also enjoy tasty meals at cafes and restaurants.
Furthermore, there is an area dedicated to horseback riding, as well as a leisure park with games for both adults and children. You can also stay at a hotel or house in the complex if you would like to stay overnight