Morocco's rich culture and distinct artwork and design attract visitors from around the world. Detailed mosaic tilework, desert photography, brass metalwork, calligraphy,
Berber jewelry and floor-length paintings are only some of the captivating pieces you can see in Morocco art galleries and museums.
From modern to historic, take a glimpse into the private and public lives of Morocco citizens through their stunning artwork.
The House of Photography (Maison de la Photographie)
Located in Marrakech, The House of Photography Museum has been open since 2009.
Their goal is to show the diversity of Morocco, from when photography started in 1879 until now. Permanent and rotating displays of photographs, glass plates, documents and postcards are available for viewing.
A boutique is also located inside selling digital prints and on the rooftop a small cafe. From the roof, you can see a stunning panoramic view of the city. 
Dar El Bacha (Confluence Museum)
Located in Marrakech's Old Medina, the Dar El Bacha Confluence Museum is often rated as one of the visitors' favourite museums. Originally built in 1912 by Sultan Thami El Glaoui, the building was created to house his family and servants.
Today visitors can enjoy the detailed mosaic tilevwork, carved cedar wood panelling, and colorfully decorated dome ceiling. In the courtyard, lush orange trees provide shade for guests, while artifacts are displayed inside.
After a walk around the museum, check out the quaint cafe serving Bacha coffee and fresh pastries.
The Orientalist Museum of Marrakech
The Orientalist Museum is also located in Marrakech's Old Medina. The building itself is beautiful, with colourful mosaic tilework, carved cedar wood accents and shining gold detailed ceilings.
Featuring a variety of orientalist paintings, antique pottery and detailed metalwork. Although the museum is small, the rooftop terrace is a bonus.
After a long day visiting sites in Marrakech, you can take the opportunity to have a cup of tea and enjoy the view.
Musée Yves Saint Laurent Marrakech
The Museum of Yves Saint Laurent is a modern museum, built in the new part of Marrakech. It was built to pay homage to the fashion designer Yves Saint Laurent, who frequently visited Morocco to design his pieces.
The museum features many of his designs, which are wonderfully displayed on mannequins and in photographs.
The lush outdoor garden is also popular with visitors. Featuring bright blue tile accents, fountains, reflective water features and cacti.
Mohamed VI Museum of Modern and Contemporary Art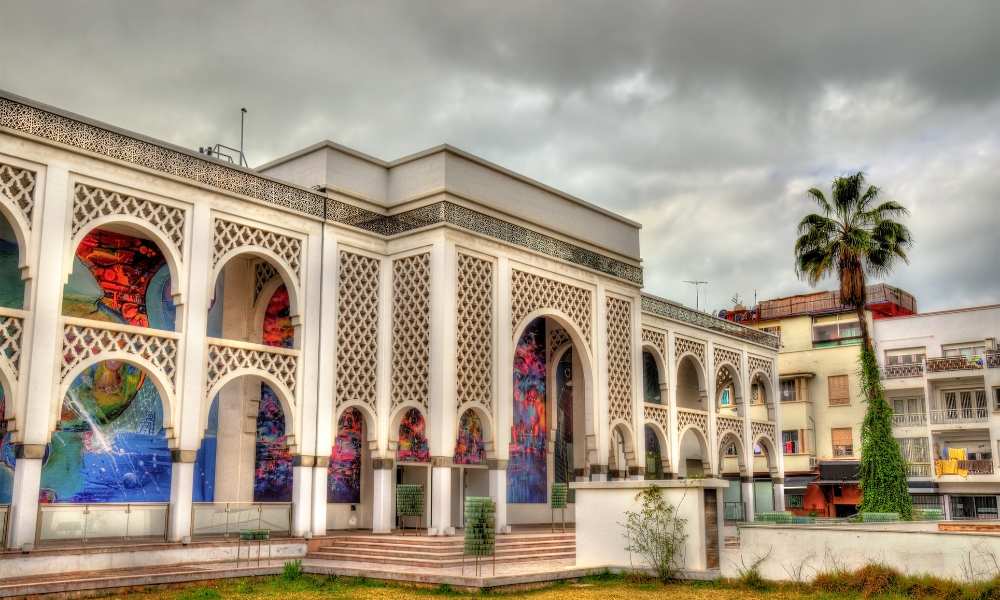 Located in Rabat, Morocco, you will find the Mohamed VI Museum of Modern and Contemporary Art. Only recently opened in 2014, the museum features works of over 200 Moroccan artists and is a part of the National Foundation of Museums in Morocco.
The permanent, as well as, temporary exhibits are breathtaking, featuring paintings, photographs, sculptures, and 3D displays.
The Ethnographic Museum (Tetouan)
The Ethnographic Museum is located in Tetouan, Morocco and was the former residence of sultan Moulay Abderrahman. An amazing museum that explains the history and culture of the Tetouan region.
Displaying a collection of furniture, clothing, jewellery, and instruments, the Ethnographic Museum of Tetouan explains the history of private vs public life in Morocco. The museum features many pieces and displays best understood with a local guide, but if you wish to just wander the museum yourself, entry is free.
Dar Batha Museum
Formerly a royal palace, the Dar Batha Museum is located in Fez, Morocco. Converted into a museum in 1915, the museum features over 6,500 historical pieces, with a focus on the history of Fez and local culture.
The artefacts aside, the building is beautiful, featuring intricately detailed mosaic tilework, a garden, cedarwood carved accents, fountains, and water features. Visitors are suggested to hire a guide to get the most out of the experience.
As the museum has very few descriptions and rarely are there English translations.
Matisse Art Gallery
Located in Marrakech, Morocco, the Matisse Art Gallery is a contemporary gallery with a modern interior. Featuring the work of Moroccan artists, the gallery displays many paintings, calligraphies, and 3-dimensional pieces produced locally.
Mixed media pieces on paper and canvas displaying abstract art are common.
The museum also hosts modern exhibits, including a recent innovative hologram art display. Although the art gallery is small, it is a peaceful escape from the bustling streets of Marrakech.
Women's Museum
A unique museum in Morocco, the Women's Museum was created as a dedication to Moroccan women's history, culture and artwork.
Featuring a variety of carefully woven rugs, paintings, and photographs, the museum tells the stories of the daily life of past and present Moroccan women. Although the museum is small, it is one of a kind, as the only women's museum in North Africa.
The museum also features a rooftop terrace, featuring a small cafe serving coffee and pastries.
Museums and art galleries are a great way to learn more about Moroccan history, culture and the daily lives of its local citizens. Modern or historical, each museum provides you with a different perspective of Moroccan life.